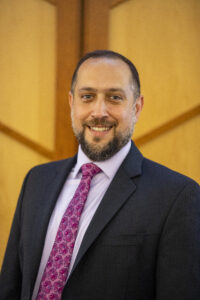 rabbiyosef@shaaretorah.org
Rabbi Yosef Goldman is an inspiring facilitator of prayer, a renowned musician and composer, and a skilled educator.
Raised in a mixed Orthodox Ashkenazi and Mizrahi home, Rabbi Yosef has been welcomed into communities of every Jewish movement as a leader and teacher of prayer and Jewish texts. Rabbi Yosef received rabbinic ordination from the Jewish Theological Seminary in 2013, with a concentration in pastoral care and counseling, and he was awarded a Master of Sacred Music. After honing his practice of pastoral care as a chaplain resident at Einstein Medical Center, he joined the clergy team at Temple Beth Zion-Beth Israel in Center City Philadelphia. As Rabbi and Director of Sacred Music, Rabbi Yosef revived the music program and enriched the community's prayer life, launching an engagement initiative that resulted in unprecedented growth for the synagogue.
Rabbi Yosef's rabbinic career has also blended spiritual leadership with innovation and entrepreneurship.  As Co-Director of Hadar's Rising Song Institute, alongside founder Joey Weisenberg, Rabbi Yosef helped establish the organization as a leader in cultivating Jewish spiritual community through song, and helped launch its record label, Rising Song Records. Through Rising Song, Rabbi Yosef taught prayer, Jewish music, and spiritual development to students across North America.
Rabbi Yosef's music is sung at synagogues, schools, and camps across the country. His first album of original music, Open My Heart, was released by Rising Song Records in winter 2019. As a performer and composer, Yosef weaves together musical forms from both his Mizrahi and Ashkenazi heritage. As a vocalist, Rabbi Yosef is well-known for his lush harmonies. He performs and records with a wide range of Jewish artists, including as a longtime featured vocalist in the Hadar Ensemble and a founding member of the Middle Eastern Jewish music ensemble, the Epichorus. Along with trombonist Dan Blacksberg, Rabbi Yosef was selected by the Kimmel Center for the Performing Arts for its 2018–19 Jazz Residency. Rabbi Yosef is a sought-after prayer consultant and scholar/artist-in-residence, where he helps communities and individuals to access authentic and meaningful experience and growth through Jewish prayer and practice.
Rabbi Yosef and his wife, Rabbi Annie Lewis, are grateful to co-lead the vibrant Shaare Torah community in Gaithersburg, Maryland, where they live with their children, Zohar Lieba and Shir Emet. In his spare time, Yosef is an avid cook and a budding gardener.
Click here to schedule a one-on-one meeting with Rabbi Yosef.