Teen Programs
High Schoolers! please come to our movie night! You get to choose your Israeli movie, bring your own dinner from home and enjoy popcorn and other snacks together!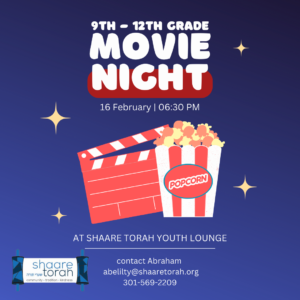 ---
Calling all teens! Excited to announce JxJ's first ever teen film contest. The contest is for teens ages 13-18 and the two winners will each receive a $375 gift card. Each entrant should submit a film between 1-3 minutes which answers the question, "Where do you belong?" Please contact Mariel at mtabachnick@edcjcc.org if you have any questions, looking forward to seeing your films soon!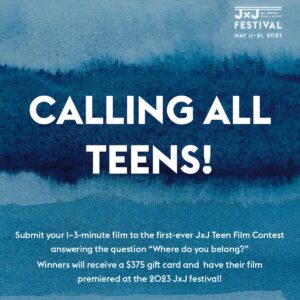 ---
Want to stay in touch with us? please fill out this form so we know you're interested!
Finding ways to have our teens continue with a connection to Jewish life post b'nai mitzvah is a high priority at Shaare Torah. Over the years we have thought creatively about different ways to allow for connection within the synagogue as well as the greater Jewish community. We are excited to offer partnerships or direct opportunities through many different ways.
Shaare Torah is proud to be a strong partner with BBYO! We have many of our teens actively involved in leadership roles with multiple different chapters throughout the region.  Annually we co-sponsor regional events and are ALWAYS happy to partner with any of our teens' chapters to host an event at Shaare Torah.
Madrichim Program (Teen Assistants)- Our Religious School is pleased to offer the opportunity for teens to work in a variety of roles, Madrichim (assistants) in elective classes and younger grades, inclusion Madrichim helping shadow our students who need a little extra help, and Hebrew teachers. Contact Leah Miller, Director of Family Education & Engagement, for more information.
If you have any other ideas or ways that Shaare Torah can help keep a strong connection for teens and Jewish life feel free to contact Abraham Belilty, our Shaliach.