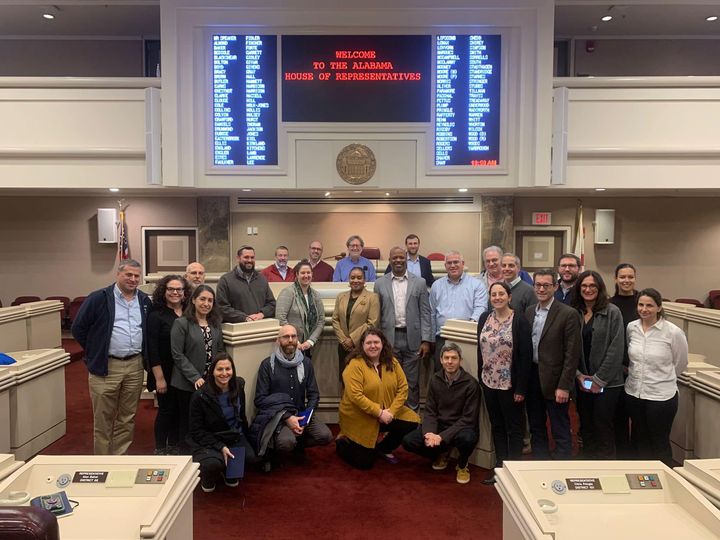 Sitting at the Atlanta airport reflecting on today's visits…
Before we left Montgomery, we went to the Alabama State House and met with Representative Christopher England and clerk and powerhouse, Evonne Jackson.
Evonne grew up in Chicago and went to ASU. She got into political life in Alabama because of her grandparents. They were from Arkansas, where they had land. Her grandfather couldn't read well and he was tricked into signing away his property. "You don't want that to happen again," she said, "You don't want that to be the only story…
I'm here. I matter. People who look like me – we live in this state. We die in this state. We cannot look away. We can't not have a voice. You have to serve."
Rep. England reminisced about growing up in Tuscaloosa and going with his dad to Selma for the 25th anniversary of the March. His father was an attorney, one of the first American Americans to serve on the Tuscaloosa Council and one of the first to be a Judge and to serve on the Alabama Supreme Court.
Rep. England remembered how as a teenager, he dreaded going to Selma for commemorations of the March- until he met John Lewis and other foot soldiers who sacrificed for him to be there. John Lewis shared his stories and showed him his scar from Bloody Sunday. He bent down and let Chris touch the scar on his head.
Chris was elected to the Alabama legislature at age 29. He has brought legislation to get rid of the judicial override effect, which has led to so many people receiving the death penalty in Alabama without a jury. He carried a bill to restrict access to guns for those convicted of Domestic Violence, a bill supported both by the NRA and Moms Demand Action.
Chris is continuing to fight for civil rights, in the justice system, for voting rights, for women in Alabama, for LGBTQ folks in Alabama, for reproductive rights.