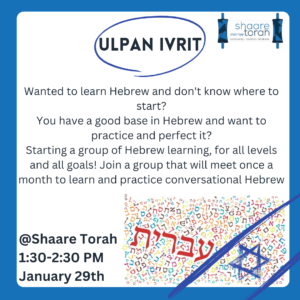 very excited to start a group focused on conversational Hebrew!
all ages are welcome to enjoy a experience based Hebrew learning.
using Israeli current events to perfect our conversational skills.
the first event will help us see the different levels we have different desires and needs. please contact Abraham if you have questions or suggestions.by E-mail or by phone 301-569-2209
A Hands-on Israeli Art Expirience
Shaare Torah Cultural Chavura
Sunday, January 8, 2023
2 PM – 3:30 PM at Shaare Torah
Inspired by the World-renowned Israeli artist
Yaacov Agam יעקב אגם
with Abraham, our congregation's Shaliach
Come join us at Shaare Torah for a presentation of Agam's background, art, and relation to Israel to create your own art, inspired by Agam. You can create three original pieces of art to take home with you, playing with colors and shapes, as well as a variety of materials. No art skills necessary!
A group focused on conversational Hebrew! with different levels, come enjoy some company and practice your Hebrew.
all ages are welcome to enjoy a experience based Hebrew learning.
using Israeli current events to perfect our conversational skills.
the first event will help us see the different levels we have different desires and needs. please contact Abraham if you have questions or suggestions.by E-mail or by phone 301-569-2209