"God is close to all who call out, to all who call out in truth" – Psalms 145
Grateful to be on this journey.
On Monday, our group of rabbis and communal leaders from the Jewish Federation of Greater Washington, spent the day in Montgomery. We visited the Rosa Parks Museum. I was moved to see the resolution passed by the Montgomery Improvement Association announcing the bus boycott.
I marveled at the feats of community organizing behind words, typewritten on pages now the color of klaf, holy parchment. "We call upon your conscience, both moral and spiritual, to give your wholehearted support to this undertaking. We believe we have a just complaint and we are willing to discuss this matter with the proper officials."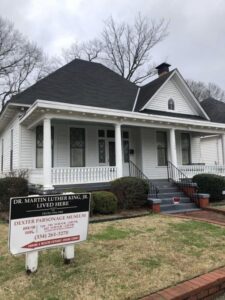 We visited the Dexter Avenue Baptist Church parsonage, where Reverend Dr. Martin Luther King, Jr., lived with his family and where he and Coretta Scott King held many gatherings for the church and the movement. We stood on holy ground on January 30th, 67 years to the day when a bomb was thrown at the Kings' home, when his daughter, Yolanda, was just seven weeks old. We saw the dent in the floor of the porch where it hit.
We had an incredible guide, Avis Dunbar-Smith, who grew up in the church and is a leader in the community today. She shared memories of visiting the parsonage as a child. She told us where the couch and piano used to be when the King family lived there. She remembered going to church when Reverend King would return to give sermons, how he always remembered her name.
Avis' grandfather was the first Black dentist in Montgomery. She met with us the day before her retirement after 17 and a half years working for a congressman of Alabama. When we told her we were from Washington, she reminisced about attending President Obama's first inauguration. She has helped many people in her career.
We stood in Dr. King's study where he wrote his sermons, and in his kitchen where he had an epiphany one night, after the phone rang at 3 am with a death threat. There in his kitchen, God spoke to him. He described:
"I could hear an inner voice saying to me – Martin Luther, stand up for righteousness. Stand up for justice. Stand up for truth. And lo I will be with you, even until the end of the world. .. He promised never to leave me alone."
After our tour, we stood on the porch and we prayed with Avis. We sang words from the Song of the Sea – our journey to collective liberation still unfolding.
-Rabbi Annie Lewis