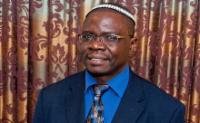 Joining us will be Rabbi Gershom Sizomu, of the Abayudaya community in Uganda. Rabbi Gershom will share with us the story of the fascinating history, meaningful experience, and critical needs of the Abayudaya Jews in Uganda. He will also teach us some of the special melodies of their Kabbalat Shabbat service.
6:30 PM – Candle lighting and joyful Kabbalat Shabbat
7:30 PM – Dinner
8:15 PM – Discussion with Rabbi Gershom Sizomu
9:00 PM – Singing/Birkat Hamazon
Please sign up here to let us know what dairy or vegetarian item you will be bringing for the pot luck dinner and to let us know how many people to expect. We want to include as many people as possible but comfortable seating will be limited to 40 people.
You can learn more about the Abayudaya here. If you would like to donate to support the Abayudaya, donations are being collected through
Shomrei Torah Synagogue. Please select "Abayudaya Fund" in the "type" field.
For more information, contact Marci at marcihb@gmail.com