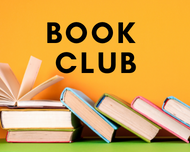 The Shaare Torah Jewish Book Club, which reads books of Jewish interest, meets nine times per year. We create the annual reading list through member input. Our goal is to read varied voices writing in different places and different times around the world. Our eclectic selection includes books that challenge, entertain, and educate us. Discussions are led by group members and sometimes feature local authors, such as Paul Green and Michelle Brafman. Past book selections have included My Father's Paradise, Rashi's Daughters, The Aleppo Codex, My Promised Land, People of the Book, Hush, The Betrayer. For a complete list of books we have read, please click here.
Since the onset of the Covid-19 pandemic, Book Club has met virtually on Zoom. All of our meetings can be found on the general calendar. For more information, contact Dawn Fairbanks or Shoshana Ringel.
This month's book is Great House by Nicole Krauss. You can find more information on this book on Goodreads.