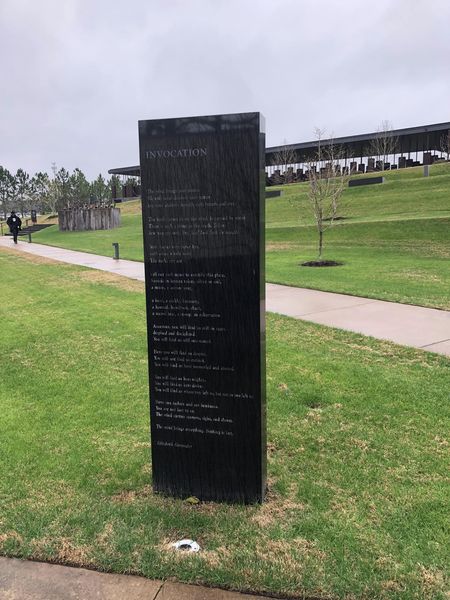 Our final stop was EJI's National Memorial for Peace and Justice. It is the nation's first memorial dedicated to the legacy of enslaved Black people and thousands upon thousands of people terrorized by lynching. It opened to the public in the spring of 2018.
It is hard to find words to describe this profoundly necessary and moving memorial.
The memorial is a prayer that no soul will be forgotten.
It is wood and iron and water and breath and names.
More than 4,000 names.
And space to honor the souls of the thousands upon thousands whose names are unknown.
As you exit the memorial, there is a poem by
Elizabeth Alexander called Invocation. I will share it below, a prayer, as I walk to my gate to fly home.
As we go home
to Maryland, DC and Virginia,
help us to remember, there, too,
for justice, for peace, for blessing, for life.
Invocation
Elizabeth Alexander
The wind brings your names.
We will never dissever your names
nor your shadows beneath each branch and tree.
The truth comes in on the wind, is carried by water.
There is such a thing as the truth. Tell us
how you got over. Say, Soul I look back in wonder.
Your names were never lost,
each name a holy word.
The rocks cry out—
call out each name to sanctify this place.
Sounds in human voices, silver or soil,
a moan, a sorrow song,
a keen, a cackle, harmony,
a hymnal, handbook, chart,
a sacred text, a stomp, an exhortation.
Ancestors, you will find us still in cages,
despised and disciplined.
You will find us still mis-named.
Here you will find us despite.
You will not find us extinct.
You will find us here memoried and storied.
You will find us here mighty.
You will find us here divine.
You will find us where you left us, but not as you left us.
Here you endure and are luminous.
You are not lost to us.
The wind carries sorrows, sighs, and shouts.
The wind brings everything. Nothing is lost.